Fri, March 18, 13:01 PM EDT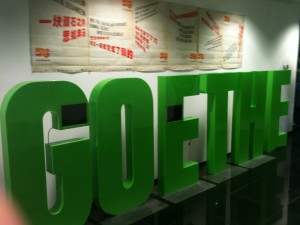 Synchronous Objects is still on the road showing up in cities far and wide from Beijing to Chicago and Zagreb to Bangalore. Of course you can always see it any time, any where online but The Goethe Institute has also made Synchronous Objects the subject of their Forsythe Module.
Curated by Petra Roggel, the Forsythe Module helps to share the work of Forsythe in locations not typically visited by the Company. We are doing this by exhibiting Synchronous Objects in a variety of installation formats: everything from working kiosks and interactive reading rooms like we did at the Wexner Center, Columbia College, SIGGRAPH etc. to immersive video installations that re-imagine the screen-based work in space and time as we did at ISEA-Rhur 2010 and will do next week at BADCo's Symposium on choreography and software in Zagreb, Croatia and this summer at the Taipei Dance Festival alongside a large selection of Forsythe's installation works.
Norah Zuniga Shaw (project co-creative director with Forsythe and Maria Palazzi) travels with the exhibitions to give public lectures and conduct interdisciplinary workshops. In 2010 the Goethe Institute sent Shaw and Synchronous Objects to the Tanzplatform and ISEA-Rhur 2010 in Germany and to Beijing, Taipei, and Tokyo. 2011 finds us in Croatia, Hungary, Turkey, Romania, India, Taiwan, Japan, New York City, Brazil, and beyond. Hope to see you around.