Mon, March 29, 12:12 PM EDT
The new edition of Communication Arts Interactive features Synchronous Objects you can view a nice web summary here. We are thrilled to be one of 38 winners selected from 1000s of entries.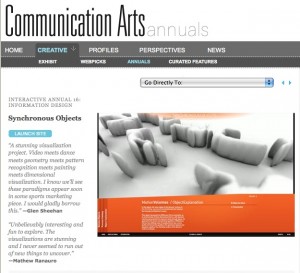 One of the goals of our project is to place dance and choreographic knowledge at the center of other disciplinary discussions. This goal is an outgrowth of Forsythe's experience with his earlier media object, the Improvisation Technologies CD-Rom which was taken up by architects as a creative and pedagogical tool when it was published in the 1990s. Architecture is once again showing an interest in the Sync/O project but we've also seen an expanded interest on the part of designers as evidenced by this Communication Arts feature but also by selection of our work for the SIGGRAPH 09 Information Aesthetics Showcase and features on the Information Aesthetics blog and on visualcomplexity.com. And in a nice bit of synergy, our guest contributor last week, Kristin McGuire suggests the connections between choreographic and design pedagogy.
So then, if we consider choreographic thinking to be an important site of knowledge for many contemporary concerns in other fields how do we continue to broaden the dialog? What about choreography as form of geographic thinking, a source of knowledge for urban planning, or an important resource in gestural interface design for things like Microsoft's project Natal or new games for the wii? For those of us in dance this may seem clear. But how do we continue to communicate and to bridge the gaps? Thoughts?
–Norah