Thu, April 15, 15:03 PM EDT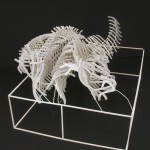 Last spring interior design students in the Industrial, Interior, and Visual Communications Department at The Ohio State University, were asked by Professor Susan Melsop to study One Flat Thing, reproduced through the Synchronous Objects website as a creative resource for their work. And this year she has decided to use the project again with her students so we thought it was a good time to share what they are doing.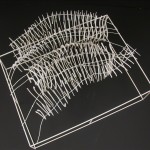 Professor Melsop explains:
"We use Synchronous Objects to explore space making, movement, and spatial composition. Students report (this year and last) that the dance challenges them and can be difficult to comprehend at first. For them, the Sync/O site serves to unlock the legibility of the dance as subtleties are revealed and patterns made explicit.
In my course, I ask students to analyze One Flat Thing, reproduced and Synchronous Objects with the suggestion that the disciplines of dance and interior design share many parallel characteristics. Both are based on spatio-temporal conditions. Both are situated in perceptions of experience. Both use systems of organization to construct logic and creative play. Interior space making is functional, creative choreography. And the structure of a body is architecture in itself. It is a salient architectonic form that interplays with dimensions of space and time. Space itself is pliable, active and alive (paraphrased from Merce Cunningham's video Points in Space). Breath and air are essential to the body and to the space, rendering each kinesthetically dynamic. The body in motion designs the space and the space navigates the body's movements.
With these parallels in mind the students analyze the dance through the lenses offered in Sync/O and through their own analytical processes. They then conduct a series of transformation exercises to produce abstract spatial configurations, manually and digitally. The student models evoke the subtleties they saw in the dance. Here is a sampling from the projects completed in 2009:
This object by student Jeremy Escalera brings the collective network of communication in the dance and the spatial distribution to the forefront.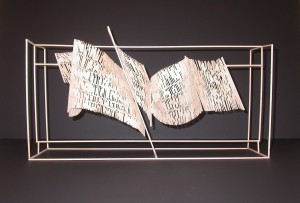 The sculptural columns constructed by Lisa Schmidt demonstrate the independent gestural alignment of dancers as they participate in the foreplay of cue.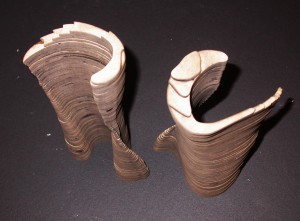 We understand through Synchronous Objects that alignments are essential to how visual relationships are constructed in the dance. In this project by Stephanie Payton alignments between the dancers become shifting landscapes of three dimensional surfaces. They create an independent architecture of form and flow.
I look forward to seeing what the students create this spring and will be happy to share the results again on the blog." – Susan Melsop