Wed, February 1, 14:02 PM EST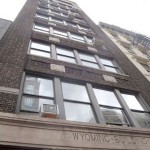 Gallery Installation Opens Feb. 2 at the Wyoming Building, #5 E. 3rd Street from 6-8pm.
We are in New York City for the final installation of Synchronous Objects: Degrees of Unison, a multi-part video and sound installation that we created using elements of our original online work and re-imagining them in space and time.
Unlike the web-based work, this installation gives an immersive and simultaneous experience of several objects. The sounds of the dancers and Bill Forsythe's voice move through the space around you as you view 7 different visualizations playing out in sync in the 15 min time frame of the dance. For this installation we arranged the screens in a ring shape that is viewed from within. We've also done it as a forest of smalls screens at PACT in Germany and as large abstractions in a giant warehouse at the Taipei Arts Festival in Taiwan.
Andre Lepecki has also worked with the Goethe Institute NYC to organize an interesting symposium on the nature of the object in relation to performance in which Norah Zuniga Shaw will present Synchronous Objects and Forsythe's concept of Choreographic Objects. We're very interested in the perspectives of so many artists and scholars coming together and it is open to the public to listen in.
Here's a link to more info:
http://www.e-flux.com/announcements/objects-in-performance/
See you!
Norah